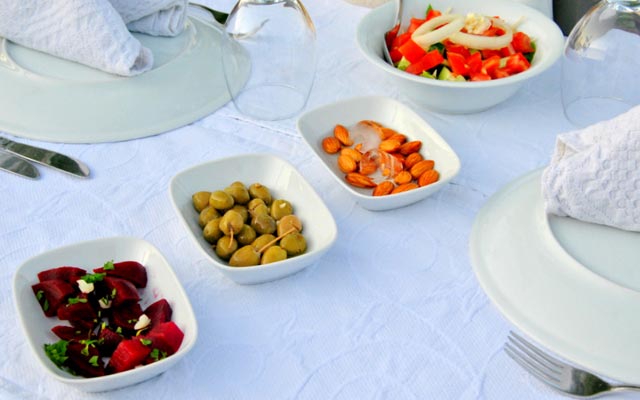 ---
North Cyprus is food lovers' paradise. Beach side restaurants, with their romantic associations and fantastic sunsets, are always popular but an equally attractive dining experience can be enjoyed away from the coast. Many restaurants favoured by the locals are to be found in the villages along the lower folds of the Kyrenia mountain range. Relaxed dining in a garden or on a terrace at a higher elevation provides an ideal escape from the heat of the day and the views are often impressive. Smaller hotels and popular holiday villages, in pleasant inland locations, are further options. Don't overlook Kyrenia itself which has many restaurants catering for all tastes. Kyrenia harbour is always popular, for fish especially, and can be a magical place to be on summer evenings. There are other restaurants within the town, especially in the old Turkish Quarter. Some of the restaurants here are only open when it's possible to dine outside and it's hard to visualise that behind the high walls of the narrow, dusty streets such tranquil oases exist.
North Cyprus Cuisine
A gastronomic adventure awaits visitors to North Cyprus. 'Spoilt for choice' readily springs to mind when confronted by the amazing array of options on many menus. Food is mostly freshly prepared and makes great use of vegetables and fruit in season. Fresh chicken is used extensively as well as steak, or as mince in Turkish dishes. There is limited choice of fish except in specialist fish restaurants. Vegetarians and vegans will have little difficulty as many Turkish dishes are free of meat. Because of the high usage of fresh vegetables, salads and pulses, people with food allergies will also usually find something to their liking. At quiet times, it may be possible to have your meal freshly cooked with allergic ingredients removed. Otherwise, contact a fancied venue in advance to alert them to special requirements. Restaurateurs in North Cyprus can be very obliging.
English breakfast is widely available or try a traditional Turkish breakfast of fresh bread, olives, sheep's cheese, tomato, cucumber and maybe a cold boiled egg. Cereals, fruit, yoghurt and a selection of cakes and pastries are usual fare in hotels. Popular with locals for breakfast/snacks on the move are fresh acma or olive/cheese buns found in supermarkets or cafes. Lunch is easy; fast food in North Cyprus doesn't equate to junk food. Try a 'durum', a pancake style roll filled with chicken and salad served with the yoghurt drink 'ayran' or lahmacun a small, very thin pizza spread with mince served with a salad.
Turkish Cypriot dishes are a must to try and meze, lots of small dishes, are very popular. Some restaurants, kebab restaurants, specialise in meze meals. Although there are similarities with Greek cuisine, there is a strong middle eastern influence in such as 'molohiya', a green vegetable, 'kolokas', a large root vegetable, and 'etli nohut', meat and chick pea stew. Tempting desserts to sample are 'ekmek kadayifi', 'sutlac' (cold rice pudding) and 'kazandibi'. Apart from Asian options, international food is usually part of most menus as well.
Many of the smaller restaurants (lokantas) entice custom with a free meze selection as a starter, some of which are almost a meal in themselves, and coffee and brandy 'on the house' to finish.